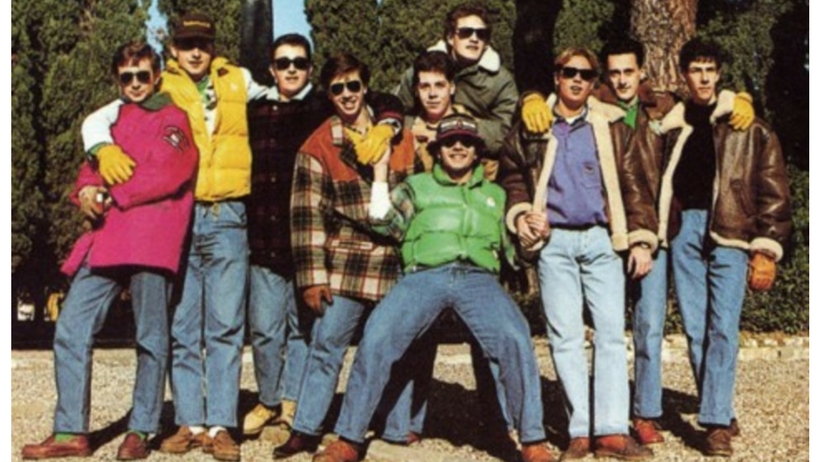 The Paninari were a youth subculture born in Milan in the 1980s with a passion for McDonald's, Moncler and motorcycles.

These three ingredients would be enough for us at BDL to stop understanding anything and start getting excited. But no, it wasn't just that ...

Milan is a city synonymous with two great kingdoms of culture: fashion and football. These realms rarely overlap. In terms of fashion, Milan has long been known as a city that guarantees luxury brands and designers.

On the other side of the cultural divide, we have the globally recognized teams of Inter Milan and AC Milan. Both clubs have a famous history and identity. The red-black and black-blue striped shirts are instantly recognizable, even if both teams have been through tough times in recent seasons.

If you want to unite these cultural realms and mention Milan, football and fashion in the same sentence, you could arouse thoughts of trendy players: Paolo Maldini, Manu Rui Costa, Andrea Pirlo.

But the history of fashion in the Milanese football culture is strong. And it had a major influence on the following movements, including the casual scene that coursed through the veins of the UK throughout the 1980s.
It all began in the 1980s with a group of young Milanese who called themselves Paninari. The Paninari were a group that frequented the Bar Panino in a rebellion against the Italian culinary status quo of the time: long, carefully prepared lunches at a slow pace. Paninaro was born from an era in which consumerism was exploding and the name adopted, taken from a fast food sandwich, exemplified it.

Il Paninaro has adopted brands such as Best Company, Stone Island, C.P. Company and Moncler. Timberland boots were always present, as were Levis 501 jeans and bomber or down jackets. In an interview with MixMag, Stone Island collector Archie Maher compared the Paninaro to the guys who now scour the Internet in search of the latest brands.

"The Paninari were a group of young Milanese middle and upper class known for driving mopeds around the center of Milan from one bar to another," he said. "They wore Stone Island and C.P. Company alongside brands like Moncler and Versace. I guess they were a bit similar to today's" hypebeasts. "
The subculture was born in large part due to the deregulation in global markets that happened through the policies of politicians like Reagan and Thatcher. Markets then flooded with international brands and consumerism flourished. Silvio Berlusconi, former Italian Prime Minister and owner of AC Milan and current liquidator of the #MeToo movement, has posted announcements in support of these new policies on his range of media.

In the 1980s, some fanzines or periodicals, such as Paninaro, Preppy and Wild Boys, seemed to discover this trend. These looks were exported to the UK, often brought back by traveling football fans who had visited AC Milan for their European matches. The movement later inspired the Pet Shop Boys' 1986 song Paninaro. And the legacy lasts to this day.
"The acquisition of these designer status symbols, combined with a modern sense of contempt, or 'studied nonchalance', was how these wealthy young people found creative self-affirmation," writes Amy O'Brien in Another Magazine .

Today brands like Stone Island are still always present in the Curva Sud of San Siro, where the ultra Milan fans unveil their massive banners and smoke chain cigarettes, or in the Curva Nord, territory of Inter.